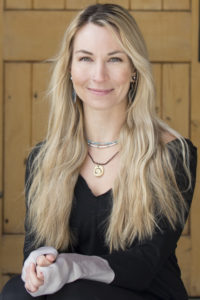 Kelly Halpin is a professional mountain runner, adventure athlete, and freelance illustrator from Jackson, Wyoming. She showed an early interest in art and spent many of her teenage years studying film and photography. After graduating from Art Center College of Design with a BFA in film, she transferred her interests to illustration. Kelly's art is inspired by surrealism, street art, animation and above all else, nature. Some of her favorite subject matter include fantastical takes on biology, astronomy, and folklore, as well as quirky characters in everyday objects and animals.
Outside of the studio, Kelly is an avid all mountain athlete and has been a professional adventure runner for over a decade. Her sponsors include Black Diamond, Snake River Roasting Co., Gnarly Nutrition, Medicine Wheel Wellness, and Niche Snowboards.
The Coffee Weirds – The state of being nervous, spastic, compulsive, or completely tweaked out from consuming too much coffee. The Coffee Weirds is Kelly's official online store.
Clients
Melvin Brewing, ESPN, Powder Magazine, Stio, Mountain Khakis, Chums USA, Boco Gear, Klymit, Exum, Jackson Hole Snowboarder Magazine, BrainFarm Cinema, Avalon7, Jackson Hole Weekly, Jackson Hole News&Guide, Storm Show Studios, Snake River Brewing, Jackson Hole Golfer Magazine, Teton Mountaineering, Nantucket Magazine, Lemur Productions, KGB Productions, FamDamly Productions, Jet Black Ninja Funkgrass Unit, and Fitzgerald's Bicycles.
Voted in Best of JH Emerging Artist 2011, 2012, and 2013
Voted in Best of JH Illustrator (silver) 2016
Voted Best of JH Illustrator 2021
Voted Best of JH Illustrator (silver) 2022
ALL IMAGES ON THIS SITE ARE COPYRIGHT © KELLY HALPIN