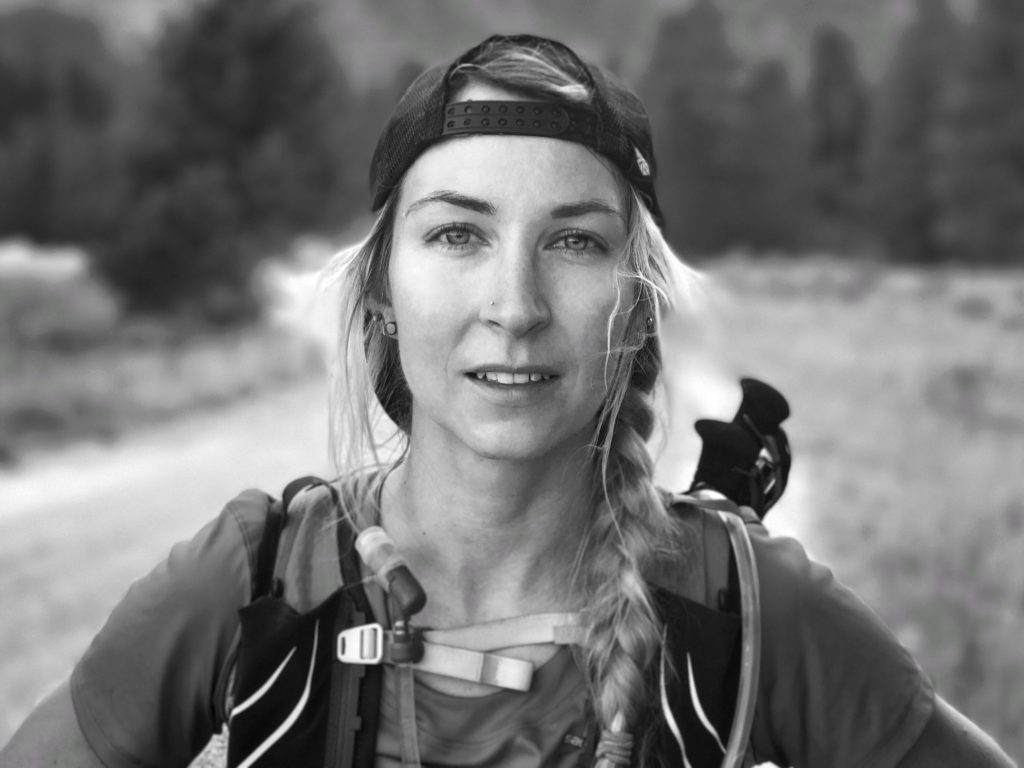 Kelly Halpin
Mountain Endurance Athlete
Profile
Kelly Halpin grew up next to Grand Teton National Park with the mountains and forest as her playground. She spent her earlier years climbing, hiking, and snowboarding the Teton range. Today Kelly is an avid mountain runner and adventurer, merging her passions for running, climbing, travel, and exploring remote and wild places. She enjoys the challenge of pushing herself mentally through difficult endurance feats, typically solo and unsupported. Kelly works hard through adventure and art to inspire people to get outside.
Mountain Endurance/Running/Climbing
Climbing for 27 years (bouldering, trad climbing,

  sport climbing, and mountaineering)

First female to complete the Grand Teton Triathlon aka  "The Picnic" and the first team to do it completely self-supported in 2014  Website: 

www.thepicnic.co

First female to complete the Mt. Moran Triathlon aka "Moranic Picnic" in 2015  Watch Film by Unicorn Picnic Here: https://www.youtube.com/watch?v=jPmprIiaLNo
First female/ first team to complete the Triple Teton Triathlon unsupported team with Ryan Burke. Watch Video Here:  www.youtube.com/watch?v=eAqH5wXrCSw
Teewinot Triathlon solo unsupported Watch Video Here: vimeo.com/214725905
Third place female in the North Face Endurance Challenge Series Marathon //Park City 9/2016
Adventure running in Western Greenland 2017 Watch Video Here: www.youtube.com/watch?v=H-3EBkn376E
Fifth place female Dead Horse Ultra 50k 11/2016
Top ten female Behind the Rocks Ultra 30k Moab 2017
Top ten female in Broken Arrow Skyrace 26k Squaw 2017
FKT Wind River High Route Wilson Dixion variation with Ryan Burke 63 hours on 8/2017
Top Ten Female Dead Horse Ultra 50k 11/2017
Wasatch Ultimate Ridge Link up 30 hours 9/2018
FKT Telescope to Shorty's Well in Death Valley round trip solo unsupported 12/2018
Established/ FKT Cache Dash Traverse solo unsupported Jackson WY 7/2019
FKT Wasatch Ultimate Ridge Linkup 23:46 solo/ supported 7/2019
First female to do the Wasatch Ultimate Ridge Linkup in under 24hrs
FKT Teton Crest Trail 9:11 supported (accompanied by Fred Most) 8/23/2019
Established/ FKT Teton Center Punch Traverse with Fred Most unsupported team 43:29 9/5/2019
FKT Granite Peak MT supported (accompanied by Robin Hill) 11:34:43 7/25/2020
FKT Wind River High Route Skurka variation solo unsupported 59:37 8/6/2020 (2nd overall fastest time as of 8/2020)
FKT on Teton Center Punch Route with Fred Most 37:29 9/6/2020
Competed in ABS National Bouldering Series in 2006/2007. Placed 2nd in ABS Advanced Women's in 2006 at the Hanger 22 comp.
Competed in 307 Bouldering Series in 2008 and placed 1st in Advanced Women's at the Enclosure Climbing Gym comp
Snowboarding
Snowboarding for 20 years
Big mountain free rider and banked slalom racer
Personal segments in Storm Show Studios films Frosty Flakes in 2013, Land of 1000 Dreams in 2014, and Cliff Hanger in 2015
Traveled to Hakuba, Japan in February 2015 to film/shoot an all-female ski/snowboard adventure story
Traveled to Niseko, Japan to shoot, film January 2016
Competed in the NorthFace Masters FreeRide Series in 2012
Competed in Jackson Hole Dick's Ditch Banked Slalom in Women's Pro Division. 8th place in 2011, 6th place in 2014, 6th place in 2015, 4th place in 2016
Competed in the Legendary Mount Baker Banked Slalom in 2014
Established the Teton GreyBirds Facebook page in 2014 to promote women snowboarders in the Tetons
Exposure
Cover of Trail Runner Magazine October 2017
Featured athlete in the Guardian, Trail Runner Magazine, Jackson Hole Snowboarder Magazine, JH Skier magazine, Teton Spirit Magazine, Wyoming Tourism TV Spot, Teton Gravity Research, Outside TV, Outside Online, Mountain Life Media.
Featured in Top 8 Women to Follow on Instagram by Teton Gravity Research 2015.
Sports model/athlete for Title Nine, Stio, Patagonia, Darn Tough, Mountain Khakis, Montbell,
CloudVeil, Medicine Wheel Wellness, Avalon7, Teton Orthopedics, and PavePara catalogs.
Personal segments in StormShow Studio films 2013, 2014, 2015, & 2016.
Teewinot Picnic film featured athlete produced by WZRD Media/REI 2017 Watch Video Here: vimeo.com/214725905
Moran Picnic short film produced by Unicorn Picnic.
Running Greenland Film 2017
Appearance on NBC Weather Channel's "Weather Caught on Camera" 2014 season for snowboarding/working in high wind event at Jackson Hole Mountain Resort.
Current Sponsors
La Sportiva, Osprey, Native Eyewear, Gnarly Nutrition, HoneyStinger, Avalon7 Adventure Co., Ridge Merino, Spot LLC, Opedix, Medicine Wheel Wellness Center
Contact Information
PO Box 10105, Jackson, WY 83002
Instagram @kyehalpin
Facebook www.facebook.com/kyehalpin/
Contact Kelly if you're interested in learning more about her athletic endeavors and sponsorship opportunities.